Wednesday, September 13, 2017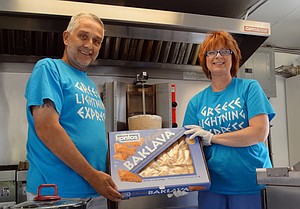 MONMOUTH — It doesn't matter how you pronounce it, Pete Kalogeras at Greece Lightning is happy to serve it up.
"I should put in a button right here, gyro," Kalogeras said, saying it correctly (ye-ro).
But Kalogeras is happy to pronounce the "g" if it makes his customers more comfortable in ordering one of the tasty sandwiches or salads from his food cart on Catron and Jackson streets in Monmouth.
The gyro meat — a mixture of beef and lamb with Greek seasonings — can be served in a warm pita with tomatoes, onions, feta cheese and Kalogeras' special handmade tzatziki sauce or over a Greek salad.
The G is silent
What: Greece Lightning food truck.
When: Monday through Friday, 10:30 a.m. to 6 p.m. Wednesdays and Fridays open until 7 p.m.
Where: On the corner of Catron and Jackson streets.
Of note: Picnic benches sit under a shaded or covered spot under trees to enjoy lunch. The food truck is parked on the property of the Kalogeras' son-in-law's business, Dr. Ryan Shurtz. Kalogeras offers lunch specials until 1 p.m. — a sandwich, fries and drink for $9.
He also offers a chicken option, cut into cubes and broiled after marinating in oil, lemon and Greek seasonings.
Kalogeras isn't from Greece, but growing up in Youngstown, Ohio, he admired the owner of a Greek food truck.
"It was a Greek gyro trailer," he recalled. "I said, 'I want to be just like this guy.' He always worked his butt off during the summer, and in the wintertime, he would go to Greece."
Kalogeras said he is far from that dream, as his trailer has been open for two months, but business is good so far.
"We did the eclipse (Indy Goes Dark) in Independence; we're going to do the PCL (Partnerships in Community Living Inc.) picnic; we did the Community Garage Sale in Monmouth," he said. "Little by little, people are starting to invite us and wanting to get to know us."
Kalogeras and his wife moved to Monmouth about a year ago after their daughter and son-in-law suggested it.
"They kind of told us, 'Guys, why don't you move out here so you can start your own food trailer,'" he said. "We kind of fell in love with it, my wife and I, and we kind of said, 'Let's just sell everything back home and move out west and give it a shot.'"
While the gyro is the most-ordered item, Kalogeras said the baklava is a close second — even if it's not homemade.
"Our salads are really good, too," he said. "They're a good portion. Matter of fact, all our servings are good portions. People tell me this is the best gyro around."