Wednesday, September 13, 2017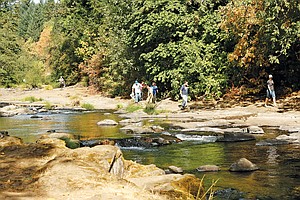 FALLS CITY – Lilly Leturno and her grandmother Melanie Bellemore aren't strangers to picking up litter.
Every time they hike or visit a park, they take a bag with them to pick up and properly throw away what others have discarded.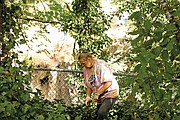 Saturday, they joined their fellow citizens for Falls City's Solve Little Luckiamute Cleanup, part of the city's Arbor Day Celebration. Volunteers with white plastic Solve bags and gloves spread out along the river picking up trash.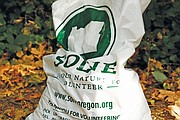 "Lilly didn't know there was such a thing because we always do it," Bellemore said, adding she's always taught her kids and grandkids to leave nature as they found it. "Every little bit helps."
Mayor Terry Ungricht said more than 35 volunteers turned out for the cleanup, a lot more than in past years.
"They just kept showing up," he said. "I almost didn't know where to send them."
He estimated that 1,500 pounds of trash was picked up during the four-hour event.
"It was a real success," he said.
Except for discovering a few scary-looking spiders, Lilly enjoyed her time cleaning up the city.
"It's fun and it helps the community," she said.
Bellemore smiled and added: "Yep, it makes everything prettier, huh?"