Friday, September 15, 2017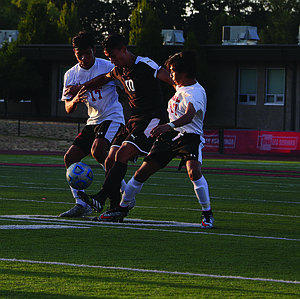 INDEPENDENCE – Central's boys soccer team found itself in a battle against Cascade on Thursday evening with the Panthers scoring a 1-0 victory.
The Panthers came into the match undefeated and scoring three or more goals its last three matches.
"What's worked well for us early on is our passing," coach Joe Orozco said. "We've been creating spaces and moving to spaces without the ball."
Cascade largely eliminated those spaces.
"Cascade is a pretty tough team and didn't give us that space, Orozco said. "We pretty much had to play their game."
Forced out of their comfort zone, the Panthers adjusted – and it showed. Central had numerous scoring opportunities throughout the second half – and a goal from junior Javier Puente proved to be the game-winner.
"We learned if your game plan isn't working, if you play with your heart and your mind, you can still win," Orozco said.
Central (5-0 overall) plays at La Salle on Thursday at 7 p.m.
For more, see next week's edition of the Itemizer-Observer.