Wednesday, September 20, 2017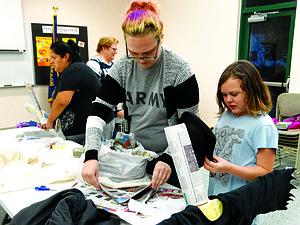 INDEPENDENCE — Families gathered in the Independence Public Library Monday night, bringing to life a scarecrow from a T-frame, newspaper and miscellaneous items.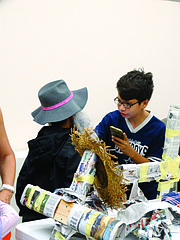 Children's librarian Jo Hall calls them "the happy-go-lucky protectors of the garden."
"I have a lifelong love affair of scarecrows," she said. "I started a scarecrow competition, because I like them and I think it's a fun family thing to do."
Join in the fun
The scarecrow competition, in its 11th year, will continue despite the cancellation of the Hop & Heritage Festival.
Bring entries to the Independence Public Library at 6 p.m. on Friday. If the weather is good, scarecrows will be displayed outside in the hopyard, Hall said. If inclement, they will be displayed inside throughout the library.
Judging will be Friday evening. Entries will be on display throughout the day Saturday.
All entries must be picked up at the end of the day on Saturday.
Categories: Best Dressed, Most Traditional, Largest Scarecrow, Smallest Scarecrow, Best Use of Recycled Material, Most Unusual, Best Family Entry, Best Business Entry, Best Individual Entry, Best Literary Character.
One of the things Hall likes about building scarecrows is they can be made out of anything.
As she handed the frames out to families, she cautioned, "They're a little splintery."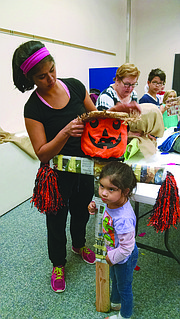 To ensure no one got a splinter in their fingers, she suggested starting by wrapping the wooden frame in newspaper and masking tape.
Amber Katausky and Willow Stewart, 8, got busy right away.
The mother and daughter had seen the scarecrow-building workshop on the library calendar last weekend, and Katausky promised Willow they would come.
"And I'm a big fan of fall," Katausky added.
"I love arts and crafts things," Willow said. "I want to submit it into the competition to see if we can win."
"I didn't know there was a competition," Katausky said.
Hall gave directions to people as they arrived, "When you get the clothing on, you can stuff the clothing."
Three generations worked two T-frames to create two different scarecrows.
Patricia Lara and her mother, Donna Carlton, helped Jazmynne Lara, 5, create a pumpkin-headed, pompom-handed creation, while Patricia's sister Stephanie Carlton helped Izaiah Hayward, 11, and Jesse Lara, 8, make their own unique scarecrow.
"We raced down here," Patricia said. "My kids wanted to do it."
Patricia and Stephanie keep an eye on the library calendar, particularly during the school year, so they can take the family to events.
"It's a super cute idea," Patricia said.
The scarecrow Jazmynne, her mother and grandmother were working on had no clothes — the table that had been filled with various items to create a scarecrow masterpiece when the workshop started was nearly empty by the time they were ready for that step.
"What are we going to do with this?" Hall asked Jazmynne about her newspaper-wrapped wooden frame.
"I was going to take it home and get some clothes for it," Jazmynne replied.
"You know, we can make a skirt out of newspaper," Hall suggested.
Donna Carlton began using burlap and creating a dress while Jazmynne grabbed the scissors.