Wednesday, September 20, 2017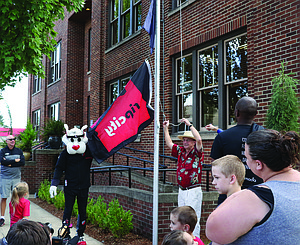 Watershed series returns Saturday
The Love Your Watershed Series returns Saturday from 10 a.m. to noon at Western Interlock, 10095 Rickreall Road, Rickreall.
Cost is $10.
The two-hour workshop will discuss permeable pavers and give attendees a chance to learn how managing runoff is an important part of watershed health and how actions can make a difference.
Live demonstrations of how permeable pavers work will be performed and experts will be available to answer questions.
Space is limited.
To register: .www.luckiamutelwc.org/permeable-pavement-workshop.html? mc_cid=4f8db9cc2f&mc_eid=530d98f883.
Perrydale FFA to hold corn feed
The Perrydale FFA will hold an all-you-can-eat corn feed Thursday from 5 to 7:30 p.m. at 7445 Perrydale Road, Amity.
Cost is $7 for adults, $5 for students and $4 for children 11 and younger.
Couples will cost $12, and a family price is available for $25.
The corn feed serves as a fundraiser for the Perrydale FFA. Money raised will go to helping send the Perrydale chapter to state and national conferences.
Registration for bird walks open
The Luckiamute Watershed Council will offer three bird walks on Sept. 30, Oct. 14 and Oct. 21. Each walk will go from 8 a.m. to noon at the Luckiamute State Natural Area and Fort Hoskins County Park.
Local bird expert Joel Geier will lead the walks.
Cost is $10 per walk. Lunch will be provided.
The registration deadline for the Sept. 30 bird walk is Saturday.
To register: www.luckiamutelwc.org/2017-fall-bird-walks.html.
For more information: 503-837-0237.
Free concerts set for Saturday
Polk County Folklife will host free concerts Saturday from 1:30 to 3:30 p.m. at the Monmouth City Park amphitheater.
Food donations for the Western Oregon University food pantry will be collected.
Huff and Meade will perform traditional Appalachian music and Ray and Renee of the Renee Hill Band will perform R&B, country, blues and folk songs.
Information about the 2018 Polk County Folklife Festival will be available.
Library welcomes author Denfeld
Dallas Public Library, 950 Main St., Dallas, will host author Rene Denfeld Thursday at 7 p.m.
Denfeld is a New York Times bestselling author of the novels, "The Child Finder" and "Enchanted."
Denfeld will read and feature her latest book, "The Child Finder."
There is no cost to attend.
For more information: 503-623-2633.
Downtown Dallas to hold cash mob
The Dallas Downtown Association will hold a cash mob Sept. 27 at 5 p.m. Attendees are asked to meet at the corner of Mill and Main streets. A business will then be "mobbed."
All those who participate are asked to bring $10 cash to spend at the business and $10 for a social hour afterward.
For those who can't meet at 5 p.m., the business will be Brixius Jewelers.
Art gallery to feature Hannegan
The River Gallery, 184 S. Main St., Independence, will feature Christine Hannegan during its last Sunday reception, Sunday from 2 to 4 p.m.
Hannegan's bird paintings will be shown as well as ceramic pieces from Arthur Gordon.
Library to host aging discussion
Monmouth Public Library, 168 Ecols St. S., Monmouth, will hold a public discussion on aging and intergenerational friendship on Sept. 28 at 6 p.m.

Jennifer Sasser and Simeon Dreyfuss will lead the discussion, which will cover a variety of topics, including where do barriers between generations come from, how do you acknowledge both the universality of aging and the differences we experience and how do we create meaningful connections with others of different ages and life stages?
There is no cost to attend.
For more information: Krist Obrist, 503-751-0193 or kobrist@ci.monmouth.or.us.