Wednesday, September 20, 2017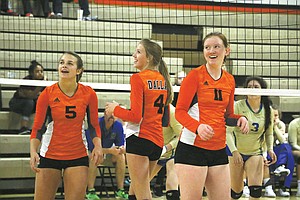 DALLAS — Dallas' volleyball team lost a pair of league matches last week. The Dragons fell to Corvallis 25-22, 26-24, 23-25, 25-21 on Sept. 12 and Silverton 11-25, 26-24, 25-23, 25-19 on Thursday.
Dallas split matches at its home tournament on Saturday, defeating Hillsboro 25-16, 25-8 and losing to Philomath 25-20, 25-16.
The Dragons played Central Tuesday after press time.
Dallas plays at Woodburn Thursday at 6 p.m. and will compete at the Oregon City Tournament Saturday at 8 a.m. before playing at South Albany Tuesday at 6 p.m.
GIRLS SOCCER FALLS TO McNARY: Dallas' girls soccer team lost to McNary 7-0 on Thursday. The Dragons (0-4 overall) played Canby Tuesday after press time. Dallas hosts Centennial Thursday at 4 p.m. in the team's final nonleague match of the season.
CROSS-COUNTRY MEET CANCELED: The Northwest Classic at Lane Community College in Eugene was canceled on Saturday due to smoky conditions.
Dallas will compete at the Mid-Willamette Conference preview meet Wednesday (today) at 3 p.m. at Willamette Mission State Park in Gervais.
The Dragons will also compete at the Three Course Challenge in Warrenton on Saturday.
FOOTBALL DROPS LEAGUE OPENER: Dallas' football team lost to Silverton 38-22 on Friday.
The teams were tied at 14 at the half before Silverton outscored the Dragons 24-8 in the second half.
Running back Evan Courtney had 31 carries for 182 yards and two touchdowns.
Brycen Grillo had 11 carries for 63 yards and Damon Hodge rushed for three times for 16 yards and a touchdown.
Dallas (2-1 overall, 0-1 Mid-Willamette Conference) plays a nonleague game at Glencoe Friday at 7 p.m.