Wednesday, September 20, 2017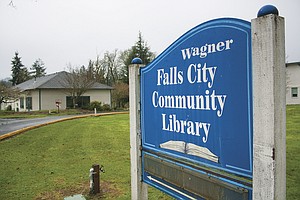 FALLS CITY — The city of Falls City voted to close Wagner Community Library effective June 30, 2018 if a solution to long-term funding is not found.
That would leave a little more than $42,000 left in the Wagner Fund that could be used to reopen the library later.
Mayor Terry Ungricht said the vote doesn't mean the library must close, but the city needs to begin the closure process soon to make sure it meets all state requirements for closing a public library, which includes holding hearings.
"We would start the process and then if an agreement came through that we could afford and that the council is comfortable with, we could just cancel," Ungricht said. "On June 29, we could say never mind."
The council had discussed putting the issue before voters to decide whether they wanted to pay to keep the library open.
Ungricht has said the council also needed to consider the need for levies for street maintenance and firefighting equipment.
The estimated cost for the library levy would be $1.30 per $1,000 of assessed value on properties.
Before the vote, Councilor Jenn Drill asked if minutes of the past meetings indicated the council made a promise to put a levy on the ballot.
Councilor Dennis Sickles, who also expressed that concern, said he believes the council did not after reviewing those discussions.

"I'm satisfied that we did not make that promise," Sickles said.
"Is the school aware that we are talking (about closing the library)?" Drill asked.
Ungricht said he had notified the Falls City School District and Wagner Library Director Andy Rommel that the city was considering a vote to begin closing procedures.

"The process that we have to go through has to be initiated, so I think we need to do what we are doing," Sickles said. "As the mayor said, we can stop at any time if something comes up."
The vote to close the library was unanimous.