Wednesday, September 20, 2017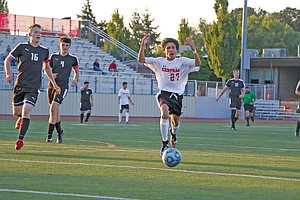 INDEPENDENCE — Central's boys soccer team found itself in a battle against Cascade on Thursday evening with the Panthers eventually earning a 1-0 victory.
The Panthers came into the match undefeated and scoring three or more goals their last three matches.
"What's worked well for us early on is our passing," coach Joe Orozco said. "We've been creating spaces and moving to spaces without the ball."
Cascade largely eliminated those spaces.
"Cascade is a pretty tough team and didn't give us that space," Orozco said. "We pretty much had to play their game."
Forced out of their comfort zone, the Panthers adjusted — and it showed.
"The game wasn't our best performance," junior Eduardo Gonzalez said. "But it gives us a starting point on what we have to work on."
Central had numerous scoring opportunities throughout the second half — and a goal from junior Javier Puente proved to be the game-winner.
"We learned if your game plan isn't working, if you play with your heart and your mind, you can still win," Orozco said.
The Panthers also defeated North Marion 5-0 on Sept. 12. Brandon Lopez scored a hat trick, and Sebastian Diaz and David Avila also scored.
"We know each other's strengths," Gonzalez said. "We know where we can put the ball to each other and where we can't. We know what we can do comfortable and what we have trouble with."
Gonzalez, despite playing on defense, is also a threat on the attack. He recorded an assist against North Marion and is as valuable on offense as he is on defense, Orozco said.
"He's impressed us very much," Orozco said. "He can create a spark. I've told him before if you have the room to move up, go ahead. He's a very versatile player and can go up and down the field with precision."
Along with Lopez, Evan Hoover, Avila and more, the Panthers have an attack that can score from all sides of the field with goals from a number of different players.
Central (5-0 overall) plays at La Salle on Thursday at 7 p.m.
While the Panthers have racked up wins during nonleague play, a Mid-Willamette Conference title is their next goal.
"The guys are more mature," Orozco said. "They don't panic so much when they hear the name Woodburn."
Unlike previous years, Orozco said Central is eager to take on the league's best.
"If we put it together, we'll be ready for anybody in our conference."