Wednesday, September 20, 2017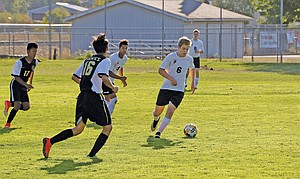 DALLAS — Building Dallas' boys soccer program into a contender is a work in progress.
The Dragons show their potential, but the key is finding a way to extrapolate that over a full match.
"We're still up and down," coach John Jones said. "We have moments where we're playing together, then we fall apart."
Dallas lost to Southridge, a 6A school, 9-0 on Thursday, but the loss did little to dampen players' optimism.
"This is one of the best groups of guys we've had, not only on the field, but off the field as friends," senior Danny Walker said. "Half the game is skill; the other half is camaraderie. If you can't get along with the other players, you can't have a good team."
The Dragons have seen several players show progress, Jones said.
From underclassmen including sophomores Caleb Jones and Carson Overstreet and freshman Caleb Kiner, to senior Johnathon Dressel, Jones said Dallas has considerable individual talent.
Turning that talent into a cohesive unit is the next step in the process and one that they are slowly working to.
"We're getting there," Jones said. "The thing we're looking for is, we've got a bunch of seniors so we are looking for someone to step up and lead — someone to say it's not OK to have that drop off on the field. It has to be from there. We need players to step up and notice a drop off in play and communicates that to one another in a positive way. I think the ups and downs are because we still have a program that is a losing program. I think sometimes we start to get that mentality, we forget to play, and things fall a part."
Players believe they are close to making a breakthrough — and a big reason why is consistency on the coaching staff.
"Having Jones back is definitely good," Walker said. "To have someone that sticks with us, knows us and doesn't give up on us and leave is really good. We know what he expects and he knows what we're capable of and can push us."
Dallas played Parkrose Tuesday after press time. The Dragons travel to face Sandy Thursday at 6:30 p.m. before hosting Milwaukie Tuesday at 4 p.m.
The matches are the team's final ones before the start of Mid-Willamette Conference play.
"Consistency is definitely key," Walker said. "We've got the skills, but if we can't keep it up for 80 minutes, we have nothing."