Wednesday, September 20, 2017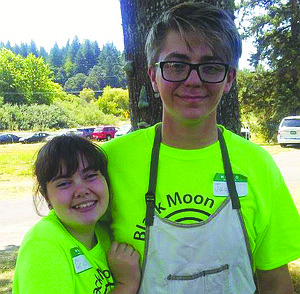 MONMOUTH — Jacob Timshel had a romantic vision in mind for how he would propose to his girlfriend, Crystal Pace, when the time was right.
It's safe to say Crystal one-upped him during a visit to Monmouth during the weekend of the Great American Eclipse on Aug. 21.
Timshel and Pace, who live in Portland, were visiting his grandmother's business, Labyrinth Gardens, in Monmouth, to help organize the garden's Black Moon Party during the eclipse.
"We were down there for a total of four days," Timshel said.
He told Pace he wanted to watch the eclipse from the center of the labyrinth, so they ventured into the maze to find their spot to view the once-in-a-lifetime event.
Totality was just seconds away when Pace asked Timshel a question.
"She said 'Jacob, can you do me a favor?'"
"Yes, but can it wait until after the eclipse?" he responded.
Her next words — just at the beginning of totality — were: "Can you marry me?"
"It completely caught me off guard," Timshel said. "I said yes."
Pace had not intended to go into the labyrinth with a boyfriend and emerge with a fiancé, but the moment — the eclipse — inspired her, Timshel said.
He said that they had talked briefly about marriage, and having been together for four years, Pace was already a part of his family.
"I thought we would wait at least another year," Timshel said. "I was thinking about saving for an engagement ring."
His plan for a proposal was to go back to the beginning of their relationship.
"Our first date was at a park, so I thought we should return to the place of the first date," he said.
He doesn't feel cheated of that opportunity, though.
"It seemed like the perfect time," he said, "life-defining in more than one way."
The couple is planning to be married in September 2018.
And yes, he does remember plenty about the eclipse. He remembers the bell his grandmother rang at totality and the opportunity to look at the eclipse without glasses for a few minutes.
"Being in the path of totality, we could look right at it," he said. "That won't happen in again in Oregon in my lifetime."
He said his family was "ever-joyed" to hear of the couple's engagement. His grandmother Joanne Timshel confirmed that.
"We were all delighted, because we like her a lot," Joanne said.