Wednesday, September 27, 2017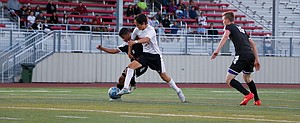 MILWAUKIE — The Central boys soccer team tied La Salle 1-1 on Thursday.
Omar Ceja scored for the Panthers.
"When the game started, it seemed like we were a little nervous," coach Joe Orozco said. "As the match progressed, we started to distribute the ball a little more and feel more confident. La Salle is a tough team and they don't make many mistakes."
"We battled throughout the entire game and we came home with a tie. Overall, the boys were disappointed but we know what we need to work on. We are going to continue to work hard to accomplish our goal. Everyone is contributing in one way or another and we are coming together as a team."
The Panthers (5-0-1) will play at Mountainside Thursday at 7:30 p.m. before hosting Silverton Tuesday at 6 p.m.
GIRLS SOCCER DROPS TWO: Central's girls soccer team lost a pair of nonleague matches last week. The Panthers fell to Madison 4-2 on Sept. 19 and Milwaukie 10-0 on Thursday. Central finished its nonleague season with a 1-4 mark overall. The Panthers open league play at Silverton Tuesday at 6 p.m.
VOLLEYBALL LOSES TWO: Central's volleyball squad lost a pair of league matches last week. The Panthers lost to Dallas 25-19, 25-14, 26-24 on Sept. 19 and Corvallis 25-17, 25-20, 25-8 on Thursday.
Central (5-6 overall) played Woodburn Tuesday after press time. The Panthers play at Silverton Thursday at 6 p.m. before hosting South Albany Tuesday at 6 p.m.