Wednesday, September 27, 2017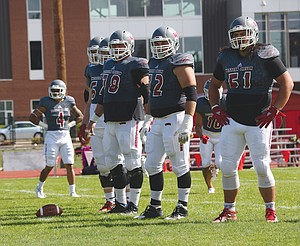 MONMOUTH — When senior offensive linemen Brad Christensen, Ron Rose and Bryson Dizon arrived as freshmen at Western Oregon University, they figured playing time would be minimal.
They were, after all, the new kids on the block with plenty of older, more experienced linemen ahead of them on the depth chart.
The three players figured their first season would be spent bulking up and, maybe see a little game action if a blowout occurred.
After a series of events, all three wound up seeing significant action as freshmen.
The experience was humbling.
"It's definitely not ideal to start as an 18-year-old against people who weigh 300 pounds," Rose said.
The trio wasn't fully ready to take on collegiate defensive linemen, but they found a way to keep their spots on the line and lay the groundwork for future success.
"It was almost surreal at first," Dizon said. "But we started to remember, it's just football. It was tough, but freshman year gave us a lot of good experience."
The trio has started together ever since and has formed the core of the Wolves' offensive line.
"We're on the same page," Rose said. "We can communicate really easily with each other. We know the little stuff that you need to get done."
As they have gone from nervous freshmen starters to seasoned veterans, they have reveled in sharing their experiences together.
"I don't think you can get a bigger bond than we have," Dizon said.
The trio has blocked for traditional pass-first quarterbacks and dual-threat quarterbacks.
"If you have a quarterback who can run, it's easier to block because they can always take off with their feet," Dizon said.
The trio continued to push each other to be the best linemen they can be.
"Brad has crazy technique," Dizon said. "He can maintain a block and hold it down. Ron is just a load. He's a physical, tough player. When you need 2 yards, Ron is there."
The admiration is mutual.
"Bryson, no matter where he plays, always locks down his guy," Rose said.
Now the trio is looking to enjoy their final year together at Western.
"It feels like we just came here yesterday," Dizon said. "We now this is our last year of guaranteed football, and you always want to leave on a good note."
WOU will have to recover from a heartbreaker.
The Wolves lost to Humboldt State on Saturday, falling 49-48 in overtime.
Western Oregon built a 28-14 lead, thanks in part to three touchdowns in the second quarter. A touchdown from Torreahno Sweet to open the third quarter gave the Wolves a 35-14 lead before the Lumberjacks scored 21 unanswered points to tie the game. The teams traded touchdowns over the final 8 minutes of regulation to enter overtime tied at 42.
Humboldt State scored a touchdown to open overtime. Paul Revis answered with a 30-yard touchdown reception, but the extra point attempt was no good, ending the game.
Quarterback Nick Duckworth finished the game with 382 yards and four touchdowns. Sweet had 24 carries for 111 yards and three touchdowns, and Revis recorded 15 catches for 176 yards and two touchdowns. Western Oregon plays at Azusa Pacific Saturday at 6 p.m.