Wednesday, September 27, 2017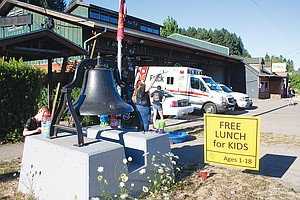 FALLS CITY — A contract between Southwestern Polk Rural Fire Protection District and Falls City Fire Department regarding services in that area of the district is on the verge of expiring without a new agreement.
Monday, The Southwestern Polk Board met in Falls City Fire Station, but were unable to approve a new contract because negotiations are ongoing between the city and Southwestern Chief Fred Hertel, who also is the Dallas Fire & EMS chief.
A three-month extension of the contract ends Saturday, and the two sides have yet to see eye-to-eye on the details.
Monday, Hertel said progress had been made at the most recent negotiation meeting, but he hadn't received a response from Falls City Mayor Terry Ungricht about the latest proposal as of Monday night.
"From my perspective, I guess I would say negotiations are ongoing," Hertel said. "I would say there was an uptick in positivity at the last meeting, but I think we are still a long ways from having a finished product."
Southwestern Board member Bob Davis encouraged him to keep working on the agreement
"We want to get there," he said.
Ungricht and Fire Chief Bob Young have said they would like to see the current contract extended, which maintains the relationship the two fire departments have had for decades.
Under that agreement, Southwestern Polk keeps fire engines and equipment in the Falls City station to respond to calls on that side of the district. Falls City volunteers respond to Southwestern calls, and Southwestern helps Falls City on calls within the city limits, if needed.
In the proposal put forward by Southwestern, all administrative services would be provided by Dallas, similar to an agreement between Dallas and Southwestern's Rickreall station.
Hertel said Young would serve as a station chief under that arrangement.
Young said at a Falls City City Council meeting in August that he's afraid the department would lose its identity if the administrative role is filled by someone else.
"We have a lot of pride in our department, and the city has a lot of pride in our department. We provide a good service," Young said. "If we do have them doing the operations, Falls City ceases to exist as a fire department."
He said he would rather separate from Southwestern if that is the case, a sentiment that members of the council agreed with, though no vote was taken to that effect in the August or September meetings.
Young said the department is accredited and can operate without outside help. At Monday's meeting, Falls City Assistant Chief Mary Sykes said the department has 39 volunteers.
"We don't have to have anyone else helping us. So basically, we can run this department on our own if we have to," Young said. "Don't want to. I want to be involved in Southwest Polk because we've done that. We help them, and they help us in a way too."
About 45 percent of the Falls City station calls are in the Southwest district's territory. Reducing the number of calls could lead to a decrease in volunteers, Young said.

ISO ratings, which insurance companies use to determine fire insurance rates, could suffer if the agreement ends and Southwest pulls its equipment out of Falls City, Ungricht said.
Homes outside a 5-mile radius of the nearest station pay higher rates because it takes fire crews longer to arrive. Those people who live within in the district, but within 5 miles of the Falls City station could see a large difference in their insurance premiums if the agreement were to end, Ungricht said.
Hertel said he understands the concerns about having an administrator from outside the city manage the department, but said the proposal is more about streamlining policy and keeping safety regulations up-to-date throughout the district.
"Southwestern would offer administrative services under that contract to the Falls City department," Hertel said. "It's hard for a volunteer department to administer all the regulations that fire service or EMS service is required to follow any more."
Hertel said if the contract expires, but the district and Falls City find agreement, they can operate under the current contract until formal approval.
If negotiations breakdown, either side can break the agreement.