Wednesday, September 27, 2017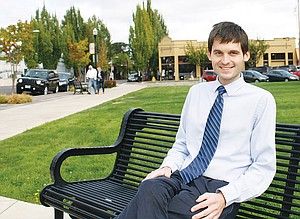 DALLAS — Alex Giovanoni wants people to look at downtown Dallas and see a fun place.
Giovanoni, 28, is the new program manager for the Dallas Downtown Association, taking over for Emma Guida, who served in the position until August.
Like Guida, Giovanoni is participating in the AmeriCorps Resource Assistance for Rural Environments program through the University of Oregon, which has him placed with DDA until the end of July.
"The program matches participants up with communities based on the kind of work they're interested in doing and the place where they want to be," Giovanoni said.
Dallas was on the top of his list on both counts.
"I went through a whole process, and I chose Dallas and Dallas chose me," he said. "I'm very happy to be here."
Coming to Dallas from Missouri, he has an outside perspective on the city's core.
His verdict? "I personally want to say, I think this downtown — even as it is right now — is a much cooler place to be and spend time than a lot of people in Dallas — and the larger area — realize," he said.
His goal is to continue changing perceptions about downtown.
He said that with Guida's assistance, the DDA has grown and already brought successful events to downtown — including playing a big role in the Great American Eclipse events — and established better communication and partnerships with other organizations.
While there isn't an eclipse to plan around this year, Giovanoni sees more opportunities for improvement and feels an obligation to keep the momentum going.
"It's a high bar," he said. "I feel that expectations for me and DDA are high."
Giovanoni has been busy getting to know downtown and the wider community in the weeks since he arrived, and sees three long-term projects that have potential to change the character of downtown in a good way.
He said the vacant former armory property on Church Street, which is in the process of being turned over to the Dallas Urban Renewal Agency, has the potential to be of the site of another anchor business. The URA will be asking for proposals from potential developers soon, he said.
"That's a big opportunity that certainly I'm going to work with folks in the city, like the planning commission, to try to move that forward," Giovanoni said. "That is really exciting."
He's offered a suggestion for the vacant Carnegie Building on Court Street if the proposal under consideration now falls through. Giovanoni said The Dalles has a similar building that was converted into an arts center, which would fulfill one of the DDA's strategic plan goals for bringing more art activities to downtown.
Lastly, he said the DDA may help the owners of the Dallas Forty on Main Street acquire grants for a historic restoration of the building.
Alongside those long-term projects, Giovanoni encourages people to take part in events downtown, whether they be cash mobs or "Out and About" events to support businesses.
He believes collaboration and sharing ideas to the best way to make downtown Dallas "a cool place to be, where there is a lot of good stuff going on."
"Keeping these events going on where people are working together and enjoying themselves together is a good for the vision of the DDA," Giovanoni said.