Wednesday, September 27, 2017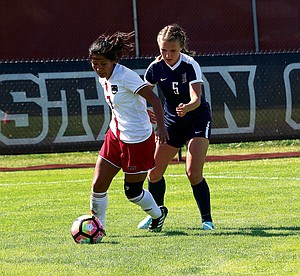 MONMOUTH — A goal with just minutes left in regulation allowed Western Oregon University's women's soccer team to earn a tie against Montana State, Billings on Saturday morning.
The Yellowjackets took the lead in the first half, scoring in the 23rd minute.
The score remained 1-0 until the 88th minute, when WOU junior Meli Cortez scored to tie the game at 1.
The Wolves lost to Northwest Nazarene 2-0 on Thursday. Western Oregon played Concordia Tuesday after press time. WOU (1-5-1 overall, 0-2-1 Great Northwest Athletic Conference) hosts Seattle Pacific Saturday at 1 p.m.
VOLLEYBALL DROPS TWO: Western Oregon's volleyball squad pushed No. 16 Northwest Nazarene to the brink before falling 16-25, 22-25, 28-26, 25-16, 15-11 on Thursday.
Senior Alisha Bettinson had 23 kills and one block. Junior Mariella Vandenkooy recorded 10 kills and two blocks.
The Wolves also lost to Central Washington 25-17, 25-21, 25-22 on Saturday. WOU (5-6 overall, 1-3 GNAC) plays at Simon Fraser Thursday at 7 p.m., at Western Washington Saturday at 7 p.m. and at Concordia Tuesday at 7 p.m.
MEN'S XC PLACES SECOND: Western Oregon's men's cross-country team placed second at the San Francisco Invitational on Friday. The women finished fifth.
Senior David Ribich took first in the men's race, finishing the 8-kilometer race in 24 minutes, 47.0 seconds. Junior Dustin Nading finished seventh in 25:20.6; junior Tyler Jones placed 11th in 25:35.9; senior Josh Dempsey took 12th in 25:36.5; and sophomore Stephen Fey took 19th in 25:48.7.
Senior Kennedy Rufener led the women's team with a sixth-place finish. She completed the 6-kilometer course in 21:54.4. Senior Suzanne Van De Grift placed 22nd in 23:02.5; sophomore Cassie McKinney took 32nd in 23:23.4; junior Olivia Woods finished in 50th in 24:35.6; and freshman Isabelle Tinglestad took 51st in 24:26.0.
WOU will compete at the Charles Bowles Invite at Bush Park in Salem Saturday at 9:30 a.m.