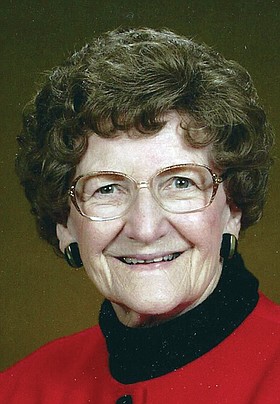 Rosella Hiebert Wall
February 14, 1922 - August 6, 2017
Rosella Hiebert Wall went to meet her savior on Aug. 6, 2017, at the age of 95. She was born on Feb. 14, 1922, along with her twin sister, Viola, in Aberdeen, Idaho, to John N. Hiebert and Sarah Martens Hiebert.
She graduated from Dallas High School in 1940.
In 1942, she married John Franz Wall, and they enjoyed 58 years together until his passing in January 2000.
Rosella had a variety of jobs throughout her life. Her fondest memories of work were from her time as a dental assistant for Dr. Ott.
The most important thing to Rosella was her faith in Christ.
She accepted the Lord at a young age, and her faith never wavered.
John and Rosella loved singing their favorite hymns together, which they felt was their ministry to others.
Rosella lived her life as a servant, setting an example of a Christ-like heart.
She gave selflessly to others through her work with senior services.
John and Rosella also enjoyed countless fishing trips and traveling to various states, and to Canada to visit their children and grandchildren.
Rosella was a wonderful and devoted wife, mother and grandmother.
Every day she prayed for her children, grandchildren and great-grandchildren.
Her family remembers her for her contagious laughter, gentle and generous spirit, and her zest for life.
She will be greatly missed by everyone, friends and family alike.
She is survived by her son John (Lola) Wall, of Lyons, Kan.; Sandra (Charles) Goentzel, of Wichita, Kan.; Sharon (Jim) Pike, of Dallas; twin sister Viola, of Reedley, Calif.; 11 grandchildren and 20 great-grandchildren. She is preceded in death by her parents John and Sarah Hiebert; husband John Wall; daughter Janice Wall Friesen; great-granddaughter Mabry Rose Goentzel; sisters Lydia Netsch, Laura Duerksen; and brother Elmer Hiebert. She is also survived by numerous nieces and nephews.
Memorial services are planned for 1 p.m. on Saturday, Sept. 2, in the Chapel at the Dallas Retirement Village, 377 NW Jasper, Dallas.
A memorial has been established with Weekday School of the Bible in care of the Dallas Mortuary Tribute Center, who is caring for the family, 287 SW Washington St., Dallas, OR 97338.
To leave an online condolence for the family, go to www.dallastribute.com
The family would like to express their gratitude to the staff at Dallas Retirement Village for the love and care they showed their mother over the last number of years.
Services for Rosella Hiebert Wall
September 2, 2017

Memorial service: 1 p.m.
Service will be in the Chapel at the Dallas Retirement Village, 377 NW Jasper, Dallas.