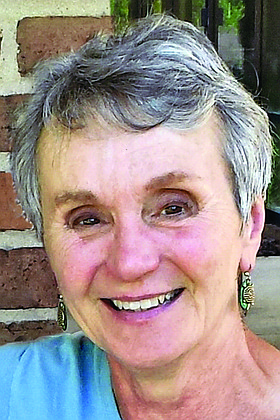 Nancy Ann Lenon
July 24, 1941 - September 12, 2017
Nancy Ann Lenon, of Dallas, died on Sept. 12, 2017, at the age of 76. She was born in Elmhurst, Ill., on July 24, 1941, to Anton and Viola (Vetter) Sobolik.
Nancy grew up in Elmhurst on Geneva Avenue and graduated from York High School in 1959, where she was involved in student council, school plays, and the National Honor Society.
Nancy attended Albion College in Albion, Mich., and was a member of the Kappa Delta sorority. In 1963, she graduated with a degree in elementary education.
Nancy maintained close friendships with a group of six women college friends and their families for 54 years following graduation.
After college she moved to Connecticut and taught elementary school there for two years. Next, Nancy went to graduate school and earned her master's degree in education at the University of Chicago.
In January 1969, she met Larry Lenon, and 10 days after the first date they were engaged. They married in Glencoe, Ill., in July 1969. She continued teaching third grade at Martin Luther King Lab School in Evanston, Ill., until she became a stay-at-home Mom in 1971 with the birth of her daughter Polly, and did so until Polly started junior high school.
In 1973, the family moved from Evanston to Salem, and then to Dallas in 1974.
Nancy returned to teaching full time in 1984, this time at the fifth-grade level, until she retired in 2002.
In 1981, after four years of weekly training, she earned the rank of brown belt in Tae Kwon Do.
A vegetarian for the last 40 years, Nancy worked out since 1985 in a group class for high-impact aerobics with weights and, since 2012, in another group class using barbells for total body strength and lean muscle gain.
After retirement she began to fully enjoy her hobbies, such as gardening, which was the love of her life, along with whitewater rafting on over 3,500 miles of rivers, Navajo weaving, many snorkeling trips, and traveling to 31 countries.
She thoroughly enjoyed being the curator of the Delbert Hunter Arboretum at the Dallas City Park. Nancy began studying Buddhism in 2006, and later became a Buddhist.
She had a lifelong interest in ecosystems, endangered species, and science. So she and Larry supported Bat Conservation International, Wolf Haven, OMSI, Snow Leopard Trust, Willamette Humane Society, Dogs for the Deaf, OPB/PBS and Heifer International, among others.
Nancy is survived by her husband, Larry, and preceded by her daughter Polly in 2013.
A Powa was held at Mahasiddha Kadampa Buddhist Center, 8959 SW Barbur Blvd. Suite 101, Portland, on Saturday, Sept. 23, at 1:30 p.m. It involved prayers for Nancy and the practice of transference of her consciousness to a higher rebirth.
A memorial service will be held at 10 a.m. on Saturday, Oct. 14, at Dallas Mortuary Tribute Center, 287 SW Washington St., Dallas, OR 97338. Contributions can be made to Delbert Hunter Arboretum and Botanic Garden in her memory at www.delberthunterarboretum.org.
To share an online condolence, go to: www.dallastribute.com. Dallas Mortuary Tribute Center is caring for the family.