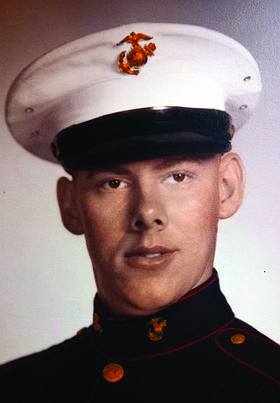 Dennis "Russ" Collins
August 6, 1940 - August 23, 2017
Dennis "Russ" Collins passed away peacefully on Wednesday, Aug. 23, due to complications of Alzheimer's.
Dennis was born Aug. 6, 1940, in Cleveland, Ohio, to Henry and Anna Kolansinski.
A veteran of the Vietnam War, he proudly served his country in The United States Marine Corps.
Dennis was a dog lover and made furry friends wherever he went.
He was the kind of guy who left the gas pump attendant a $5 tip because he recognized hard work in any form, who took his grandson for a happy meal and to the park to let him run wild and free, a man who would literally give you the coat off his back if he felt you needed it more than him.
He was special and loved and will be dearly missed.
Dennis was preceded in death by his beloved wife Char and is survived by his two children Kimberly and Brian, as well as five grandchildren and 16 great-grandchildren.
In lieu of flowers, the family would like you to consider making a donation in his honor to the nonprofit charity War Dogs Making It Home, an organization that trains dogs rescued from kill shelters as service animals for veterans suffering from PTSD.
Helping veterans and dogs were two causes very dear to Dennis' heart.

Services for Dennis Collins
September 8, 2017

Memorial service: 9:30 a.m.
A military service will be held at the Willamette National Cemetery. Any and all are welcome to attend and pay their respects.