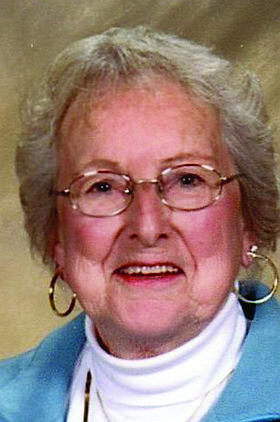 Donna Lee Moen
September 18, 1928 - September 7, 2017
Donna Lee Moen passed away peacefully in Salem early Thursday morning, Sept. 7, 2017.
She was born on Sept. 18, 1928, in Albany, to parents Jennie and Elmer Erb, and was the fourth of five Erb children, Kenny, Betty, Richard and Darrell (Sam), all of whom proceeded her in death.
Donna married Delton Moen on Sept. 28, 1947, in Albany. Del proceeded her in death in 1998.
They raised three children, Sherida Bradley (Rick), Carla Serfas (Ron) and Kevin Moen (Nancy). She also had three grandchildren, Monica Bradley Hackett (Matt), Erik Moen (Deborah) and Grant Moen, along with four great-grandchildren, Jake Hackett, Max Hackett, Hannah Moen and Connor Moen.
She was a devoted mother, "gramma" and "GG" extraordinaire.
Donna grew up in Albany and graduated from Albany Union High School.
She stayed at home raising her three children until they all started attending elementary school.
She then went to work as a bookkeeper for Nissen Ford in Albany.
In 1965, she and Del purchased the A&W Restaurant in Sweet Home, that they owned until 1979.
Being an A&W owner was actually a family trait, as Donna's cousin Willie Reeser, and brothers Kenny and Sam Erb also owned A&W restaurants.
Upon retirement, they moved to Salem and made many friends in the Salem Town Retirement community.
Donna and Del had a passion for travel. They joined the motorhome movement early on and enjoyed many trips throughout the U.S., Mexico, and Canada with friends and family. As snowbirds, they loved spending their winters in Yuma, Ariz.
She also loved playing the piano, golf, entertaining, "doing lunch," bridge, Sweet Adelines, Beta Sigma Pi, attending sporting events, especially those of family members, and picnics.
Donna will be missed by her family and many friends.
A celebration of life will be held at Dallas Mortuary Tribute Center on Sunday, Sept. 17, at 1 p.m.
Memorial donations may be made in Donna's honor to the American Red Cross disaster relief fund of your choice.
To share an online condolence, go to: www.dallastribute.com.

Services for Donna Lee Moen
September 17, 2017

Celebration of Life: 1 p.m.
A celebration of life will be held at Dallas Mortuary Tribute Center.